Description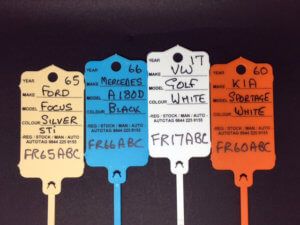 The Autotag Mk II key tag is designed for use in all areas of the dealership. The key tag is attached to the key with a self-looping tail. Apart from the standard workshop/job no./model/reg no. PRINTED format we can supply the key tag in PLAIN or with your own PERSONALISED print (see below).
The Mk II key tag is supplied in a handy dispenser box of 200 and comes with two high-quality waterproof marker pens.
Desktop box of 200 key tags.
Colour coded plastic key tags.
All-in-one self fastening loop.
Key tags are durable and easy to attach to keys.
With two new improved quality black marker pens.
Available in 10 different colours – yellow, blue, white, red, green, orange, silver, beige, pink or lilac — PRINTED or PLAIN.
All key tags can be personalised with your own print. Please contact us on 0844 225 0155 to discuss your requirements and to receive a quotation.