Number Block System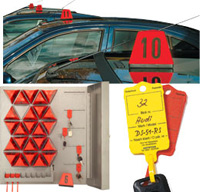 The Autotag number block system allows for the rapid identification of vehicles and keys, and our products include number sheets, number block tags, number block boards and individual number blocks (either printed or plain).
Number block number sheets enable you to replace damaged numbers on your existing number blocks, or for use if you have a series of plain number blocks. There are 12 numbers per sheet.
You can buy individual printed number blocks in a variety of colours including yellow, blue, red and green; and if you're ordering 10 or more you will enjoy a discounted price. Number blocks can also be ordered plain with the individual number sheets bought separately.
Our steel number block board is easily wall-mounted and can store 25 magnetic blocks in an organised pattern. This avoids the blocks being mis-placed. The board does not come supplied with number blocks, which need to be ordered separately.
If you can't find what you are looking for, try the search function at the top right of every page or simply give us a call on 0844 225 0155.